Can you name this former Davidson Wildcat? This one's going to be a good bit harder than the Mark Donnelly question from earlier.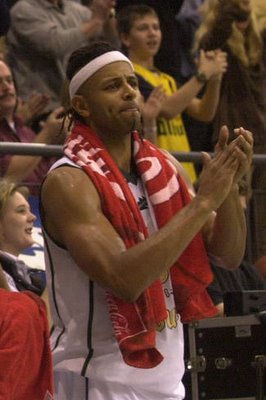 Update: We had a winner....very quickly I might add. "Wild" correctly answered: James Marsh.
James only played one season at Davidson (1990-91), while Davidson was briefly in the Big South Conference. That is why I thought this might be a bit harder question....but I severely underestimated the Davidson crowd.
James was from Germany and was a hallmate of mine our freshman year on 2nd West Belk. He was going to be my roommate our sophomore year, but he decided not to come back to Davidson. He stayed in Germany and signed a contract to play professional basketball in his home country.
Good call, "Wild". I'm quite impressed that you got that so easily.
Also, James just retired from his basketball career. If you speak German (I don't), you will be able to read this. Here's the link to an article about James' retirement.